Although Got Ferry to Cat Ba Island has been familiar to every single Hai Phong person,  this place always evokes different emotions for me standing in front of the vast sky and sea waves whenever I pass by .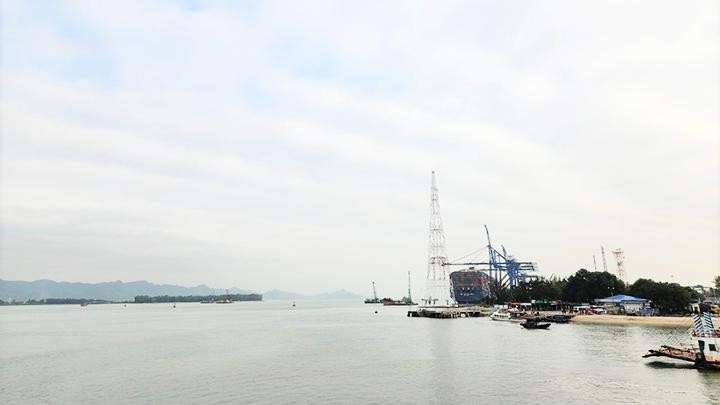 The vehicles continuously flock into the ferry terminal and slowly move in rows when approaching Got Ferry, which requires passengers' patience. Almost everyday, the volume of people and vehicles passing through the terminal are very huge, making people, even the easy-going feel a little uncomfortable because of the smell of engine oil mixed with car dust and smoke at the departure time, even worsened by the loud engine sound.
I often start to get excited when feeling the salty sea breeze on my skin, the sea breeze in my hair makes me quickly look up and turn my gaze toward the offshore ships. The strong sea breeze appears to wash away the noise and dust of the ferry. After about two minutes, things on the ferry will become more comfortable. Passengers can stand or sit at any position to enjoy the scenery. I like to climb up to the top deck for the romantic sea air.
Once the ferry is all surrounded by the vast water and waves, the landscape is like a picture with the green border of Cat Ba island's hills and forestsstretching out. No words could describe the poetic landscape surrounded by the sea. The waves bouncing up and down become gentle when touching that calm blue shore no matter how fierce they are, inspiring those with passion for the nature and homeland to overcome the bobbing waves to reach the ferry station. Turning around to the ferry terminal, I discover that Lach Huyen International Port from this view is also very beautiful with the image of a giant ship carrying many colorful containers, demonstrating the City's ambition of development. This is a port specializing in welcoming large ships to import and export cargo everywhere in the world.
For those who do not like the crowd of Got Ferry, there is another way to Cat Ba Island by cable car without motorbikes or cars transported. It will also be excited to watch the sea and island from the above view. Otherwise, it is enough for passionate hearts to fall in love with the port city's sky looked up from the ferry. Watching the cable car moving leisurely, I suddenly think of the flying iron lamps beside white clouds in a huge space.
Like many passengers, I took a lot of pictures as a souvenir. Got Ferry is like the gate to the love and embrace of the sea, sky, island, forest... towards visitors, in which the time on the ferry is just the beginning of a beautiful journey ahead where each person will find their own meaningful moments to multiply their love for  homeland.