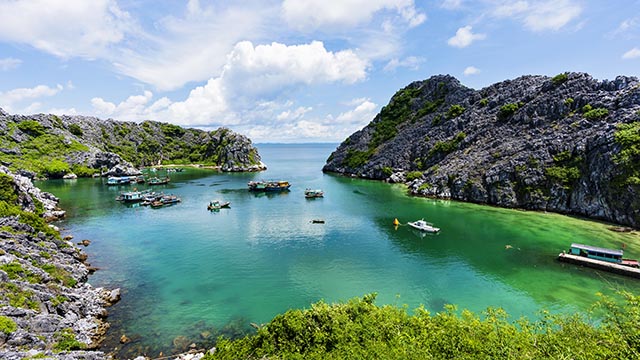 Cat Ba's beauty is equivalent to a nature-created picture
Holding its hands around Cat Ba, Lan Ha Bay (voted the most beautiful bay in the world) stretches emotionally with a clear blue coast and hundreds of small islands. Seen from above, this place looks like a natural picture with the green color of the forest in harmony with the blue of the sea. Cat Ba is also a rare archipelago of Vietnam that owns one of the two most beautiful beaches in Southeast Asia: Cat Co 2 - with a long sparkling sandy beach, jade blue sea, lying along the the bay's shore in an inviting way.
… to a new Cat Ba
In the general development trend, Cat Ba has made dramatic changes in recent years.
Hai Phong has been implementing a series of large infrastructure projects to promote Cat Ba tourism. These projects are considered as a lever for the strong development of resort tourism here, attracting a large number of tourists to return to "Pearl Island". With the emergence of the high-class four-season resort complex Flamingo Cat Ba, from a beautiful unspoiled sea, only reaching "a lot of potential" but still remaining closed, Cat Ba gradually sheds her skin and puts on herself a new look, becoming a dynamic, attractive tourist paradise, attracting tourists with all the advantages endowed upon by nature.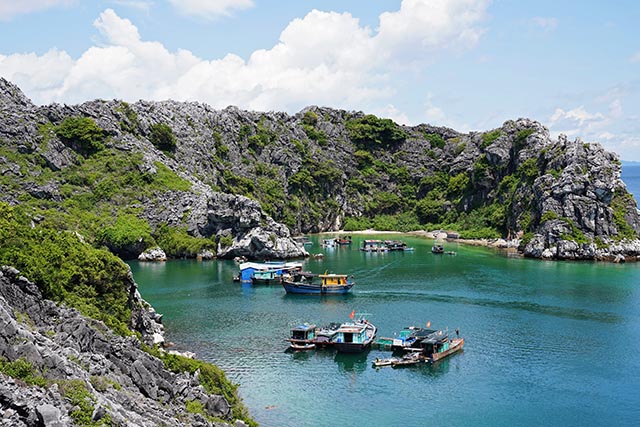 Cat Ba's hectic transformation
Besides, in the context of the current pandemic and pollution, many people yearn to have a healthy living space with greener, safer architecture, not too crowded, not too high-rise, low construction density for distancing. Flamingo Cat Ba is not only a temporary tourist resort, but also really becomes a dream "second home", a peaceful place in harmony with the scenery of sky - sea - green trees, located in a complex of fully integrated utility services - entertainment, yielding relaxation both physically and mentally.
As a resort complex with the most beautiful location and the most spectacular scale in the North (3 high-rise towers and 1002 rooms), reflected in the delicate and unique green architecture, imbued with the brand's identity of Flamingo, has been recognized through many prestigious international awards, Flamingo Cat Ba has been present and put into operation more and more smoothly, helping to strengthen customers' trust, serving all customers' needs in the best possible way.
This is considered a potential investment product combined with comprehensive infrastructure and a worthwhile utility system, affirming the style of the villa's owner. After all, Flamingo Cat Ba is a complete wholeness, yielding a special experience of a happy home for the whole family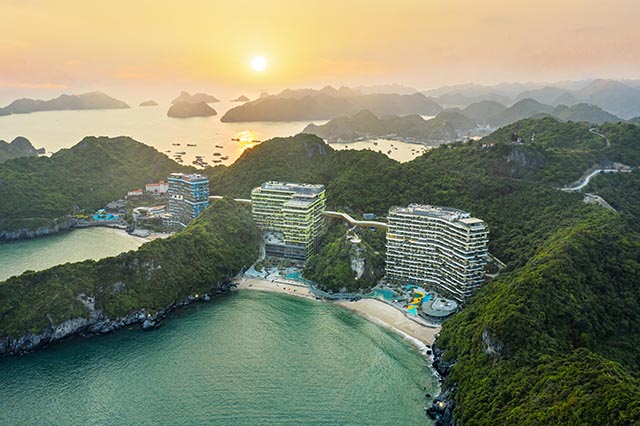 A new Cat Ba with the emergence of Flamingo Cat Ba
The launch of Flamingo Cat Ba marked a turning point, for Cat Ba to become a new Cat Ba, completely transformed. With these positive changes, it is predicted that in the near future, Cat Ba will quickly become a leading tourist and investment attraction in the Northern region.