One day to whet the appetite for longer stays at Cat Ba - Duc Kim
The archipelago in the northern city of Hai Phong, adjacent to the world heritage site of Ha Long Bay, has 367 islands, of which Cat Ba is the largest.
A boat trip in the emerald waters of Lan Ha Bay, which is interspersed with a myriad of limestone karst mountains, takes visitors to a world of peace and quiet. [see more]
Five fantastic places to stay in Cat Ba - Darren Barnard
The town of Cat Ba in northern Vietnam is surrounded by limestone rocks with multiple ferry ports to whisk you away to wherever you wish. The majority of the island's 13,000 inhabitants live in the town, where most hotels tower over the main road and overlook the harbor in the distance.
These are where a majority of domestic and international visitors choose to stay due to their close proximity to the ferry terminal and seafood restaurants. But the best accommodation options arguably are found further afield. [see more]
Biking Routes In Cat Ba Island - BestPrice Travel
Cat Ba archipelago is composed of 367 islands including Cat Ba island in the south of Ha Long Bay, off Hai Phong city, and Quang Ninh province. The island is located about 30 km from the center of Hai Phong city and 25 km away from Ha Long city. Infrastructure and accommodation are quite developed with a combination of hotels, motels, resorts, and temples, suitable for a relaxing vacation. Cat Ba island has been recognized by UNESCO as a biosphere reserve in the world, making it a worthy destination when visiting Viet Nam and cycling in Cat Ba. With an ideal geographic location and a beautiful coastal highway, it is mostly recommended that tourists take the biking routes in Cat Ba Island, in order to fully enjoy the tremendous sightseeing spots along the way. [see more]
Top 15 Cat Ba Island Things to Do [Should Not Miss] - BestPrice Travel
There are a lot of Cat Ba Island things to do: swimming at Cat Co Beach, kayaking to explore the amazing caves, visiting Cai Beo Floating Village, cycling to Viet Hai Village, and other more. If you are looking for something more adventurous, you can trek to the Cat Ba National Park to see the rare animals and plants, go rock climbing, as well as go snorkeling and diving. Moreover, the seafood is so incredible that you should not miss your chances to savor all specialties like Horseshoe Crab and Vietnamese Geoduck Clam. [see more]
Cat Ba Island, Vietnam: The Complete Guide [Updated 2022] - Visit Halong Bay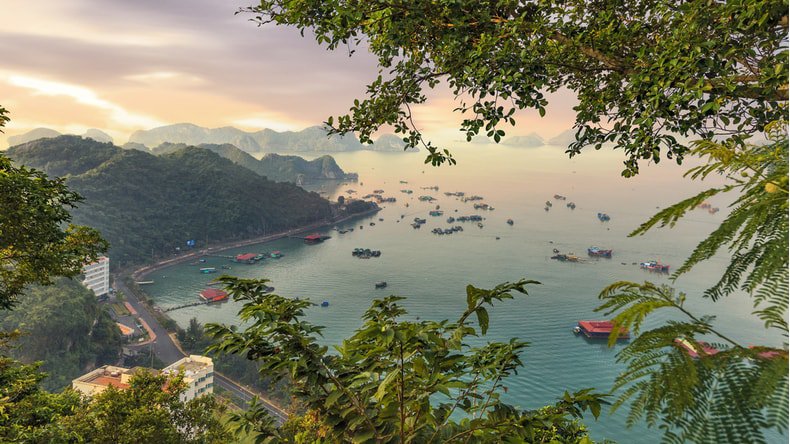 Part of the island, along with the rest of the archipelago, is a designated National Park and the local government aims to protect Cat Ba's great biodiversity. Visitors to Cat Ba can enjoy a varied landscape that is made up of mangroves, limestone karsts, green forests, white sand beaches, and coral reefs.For transport, visitors can rent motorbikes to explore the island and see as much as they can on their visit. One highly recommended activity for those visiting Cat Ba is a trek around the National Park and even up Ngu Lam mountain!Cat Ba Island has three main beaches (named Cat Ba 1, Cat Ba 2 and, Cat Ba 3) where visitors can get their tan on and enjoy a dip in the ocean. For those who are more physically inclined, there are activities such as rock climbing, kayaking, and snorkeling. [see more]
Cat Ba Island, Vietnam - Cost of living - Living Overseas TV