The challenge of how to create a unique and profound Vietnamese cultural experience for tourists is still a concern for those working in the tourism industry.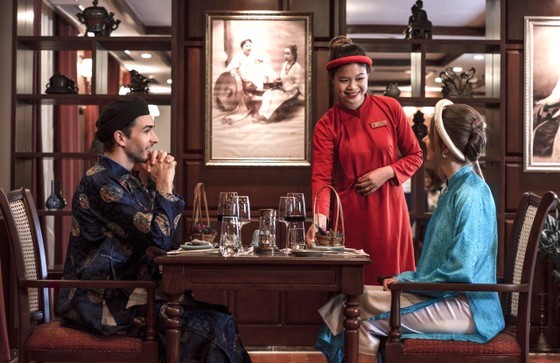 Foreign tourists experience Vietnamese culture by trying on traditional ao dai dresses during a visit to Lan Ha Bay on Cat Ba Island, Hai Phong City. (Photo: SGGP)
In the Strategy for the Development of Cultural Industries in Vietnam until 2020, with a vision to 2030, cultural tourism is identified as a key sector. However, the challenge of how to create a unique and profound Vietnamese cultural experience for tourists is still a concern for those working in the tourism industry.
Experiencing local culture
Cultural tourism is considered a distinctive product that attracts many international tourists to developing countries, in addition to other types of tourism such as eco-tourism, medical tourism, adventure tourism, and educational tourism. Vietnam aims to make cultural tourism contribute 15-20 percent of the total revenue of US$40 billion from tourism by 2030.
Mr. Vu The Binh, Chairman of the Vietnam Tourism Association, has expressed that the expectation for cultural tourism development is not baseless, as Vietnam possesses an extremely-rich cultural heritage. Cultural tourism has been identified as a favorite trend of many domestic and foreign tourists. When visiting Vietnam, tourists often seek out new and unique experiences, explore local cultures, and interact with the locals to appreciate the beauty of the country and its people. This shows that Vietnamese culture will create unique experiences for every tourist on their travel journey.
With over 20 years of experience in the tourism industry, Mr. Pham Ha, Chairman of Lux Group, has commented that Vietnam's cultural tourism has numerous unique resources that distinguish it from other countries in the region and the world. Through traveling to various places and interacting with foreign tourists, he has come to realize that Vietnam possesses a wealth of valuable tourism resources, ranging from its culture, nature, and cuisine to its people.
Many international tourists have shared that their most unforgettable travel experiences involve immersing themselves in local culture. Telling the story of the national culture with will and national self-esteem is one of the driving forces that enable many tourism businesses to remain resilient and establish a position and reputation in the industry.
Capturing the trend of cultural tourism
Culture has always been a significant aspect of many economic sectors, including tourism. However, cultural tourism has only been developed recently. The first sign of cultural tourism development globally was in 1985 when the European Union selected Athens, Greece, as the "Cultural Capital of Europe." This event can be considered the initial step in the birth of cultural tourism worldwide.
In Vietnam, cultural tourism has not been classified as a separate category. However, by observing the daily activities of the tourism industry, we can see that many enterprises offer products related to cultural tourism. These products include visits to religious architecture, cultural festivals, and the promotion of traditional cuisine.
Regrettably, the relationship between tourism and culture in Vietnam is still not very strong, as evidenced by the recent case of the film set 'Dao, Pho, and Piano' by Director Phi Tien Son. A street in Hanoi from 1946 and 1947 was recreated with painstaking detail, including every doorway, roof, and signboard, but after only two months, everything had to be dismantled. In many countries with developed cinema industries, such studios are kept as tourist sites and attract many visitors. Unfortunately, this old Hanoi context was not retained as a long-term historical and educational tourist destination. Additionally, many spring festivals, with their unique cultural characteristics, have not been professionally exploited to create specific tourism products.
These small stories highlight the importance of having expertise and experience in developing cultural tourism. Enterprises and government agencies should take decisive and practical steps to identify and implement changes in their regular activities. Although Vietnam has abundant cultural and natural resources, turning them into cultural tourism products that leave a lasting impression on visitors, make them feel excited, and encourage them to return, as other countries have done, is still a challenging journey for Vietnam's tourism industry.
Mr. Pham Van Thuy, Deputy Director General of the Vietnam National Administration of Tourism, acknowledged that the utilization of cultural heritage as a tourism resource is still modest and requires further promotion in the near future because cultural resources not only generate significant revenue but also enhance the national image, thereby contributing to the country's global identity.