Five international delegations paid working trips to Hai Phong in March and on the first days of April proved that the northern port city is always ready to expand relationship with partners, thereby promoting investment attraction, boosting exports and improving its competitiveness capacity.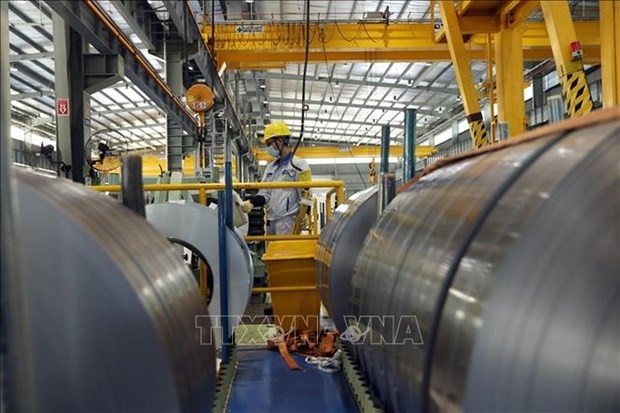 Workers produce rolled steel for export at JFE Shoji Steel Hai Phong Co Ltd at VSIP Industrial Park in Hai Phong city. (Photo: VNA)
On March 1, Receiving a delegation from the US Embassy in Vietnam led by Ambassador Marc E. Knapper, Standing Vice Chairman of the municipal People's Committee Le Anh Quan said he hoped the Ambassador will introduce more US investors and businesses to invest in the city.
The city's authorities pledged to create optimal conditions for US investors to explore the local investment environment and seek cooperation opportunities, he said.
For his part, Ambassador Knapper said that the delegation's visit aimed to gain a deeper insight into the city's situation and seek cooperation opportunities.
The delegation also hoped to explore Hai Phong's methods to rank in the top localities in the provincial competitiveness index (PCI), thus making more US firms aware of the city's advantages, the diplomat said.
At a reception for the Republic of Korea (RoK)'s Ambassador to Vietnam Oh Young-ju, Secretary of the municipal Party Committee Le Tien Chau affirmed that Korean-invested projects have made important contributions to the city's development.
The Korean Ambassador said that the RoK and Vietnam have enjoyed profound and long-standing cooperative relations, and achieved cooperation results in all fields. Hai Phong is currently an investment centre of Korean enterprises with many successes, notably projects of LG Group.
While working with a delegation from the Singaporean Embassy in Vietnam led by Ambassador Jaya Ratnam, Hai Phong Party Secretary Chau said that Singapore has always been a major investor and trading partner of Vietnam. There are currently 858 FDI projects worth 24.8 billion USD in Hai Phong, including 52 projects from Singaporean investors, with total capital of over 2.6 billion USD.
The official said the city wants to boost collaboration with Singapore in fields where the city-state has strengths such as renewable energy, urban management and digital transformation. Hai Phong Party Secretary Chau also hoped that the Singaporean Ambassador would help connect Hai Phong with Singapore businesses in those fields.
Hai Phong is set to become one of the most developed cities in Asia and the world by 2050 under an adjusted master planning scheme, which has been approved by Deputy Prime Minister Tran Hong Ha.
The city will build broadband information infrastructure, creating a foundation for its smart city development. It plans to set up smart management centres in new urban areas. A new information and communication technology (ICT) parks are also proposed for construction in Nam Dinh Vu, and Kien Thuy and Tien Lang districts.
According to Director of the Hai Phong Economic Zone Authority Le Trung Kien, as the city has defined digital transformation as a driving force for its economic growth, the authority has synchronously implemented many solutions. As a result, the local business investment environment has been improved, making important contributions to the city's socio-economic development.
Hai Phong continued ranking among the top localities in attracting foreign direct investment (FDI) in the first quarter of this year. As of March 22, the city had lured 385.08 million USD in FDI, equal to 78.89% of the figure in the same period last year, and 17.91% of the yearly plan.