The Ministry of Industry and Trade has advised localities to review, amend and supplement mechanisms and policies that encourage investment in logistics services.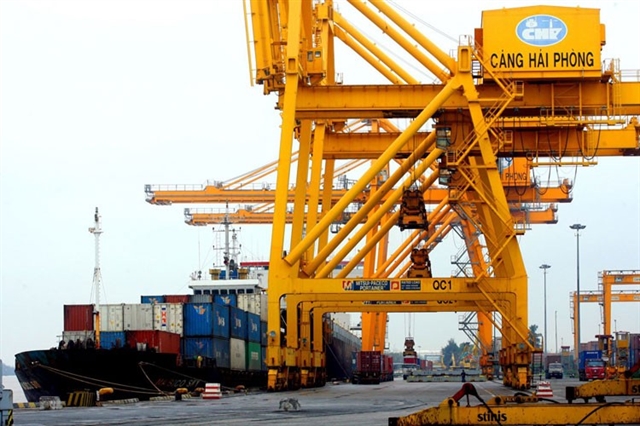 Hải Phòng seaport system plays an important role in the export activities of goods. Photo congthuong.vn
HÀ NỘI — In a bid to advance the socio-economic development of the Red River Delta region sustainably, provinces and cities in the area have been encouraged to prioritise the development of the logistics industry.
The Ministry of Industry and Trade has advised localities to review, amend and supplement mechanisms and policies that encourage investment in logistics services.
This approach will ensure that development is synchronous and feasible, creating a breakthrough mechanism that will establish robust logistics corporations, identify key logistics types with potential for development and promote the application of technology and digital transformation.
In addition, the ministry has recommended that localities focus on investing in the construction and upgrading of logistics centres that apply advanced science and technology and modern equipment.
This investment will improve competitiveness and service quality while reducing costs.
They must also develop programmes, plans and policies suitable to the specific characteristics and advantages of each locality and region to attract investment from other countries in socio-economic infrastructure, especially traffic infrastructure and infrastructure of industrial zones and clusters. That will ensure synchronous and convenient manners for transporting and consuming goods.
The Red River Delta region also needs to establish a clean land fund to attract investment from leading international logistics enterprises in the development of logistics infrastructure, contributing to turning it into a logistics service centre in Southeast Asia and the world.
In addition, the localities in the region need to focus on human resource development and improve business and investment environments, including administrative reform and cutting of unsuitable business investment conditions, to improve the competitiveness of the localities. 
The Ministry of Industry and Trade said the logistics centre system is being formed and developed. Việt Nam has 75 logistics centres in 16 out of 63 provinces and cities, including 26 centres in the Red River Delta, accounting for nearly 35 per cent of the total. 
The development of infrastructure associated with logistics infrastructure in recent years has made positive changes with many large and modern projects under operation.
In addition, this development of the transport infrastructure system has created a more efficient connection among regions and improved the efficiency and quality of transport services.
The Hải Phòng-Hạ Long expressway plays an important role in connecting the three economic growth poles of Hà Nội-Hải Phòng-Quảng Ninh, creating synchronous transport infrastructure to reduce time and promote growth in cargo transport. Those promote the development of logistics services in Việt Nam in the future, the ministry said.
Some other regional localities also have a relatively complete and synchronous transport network. For example, Thái Bình Province has developed the part of National Highway 10 in this province connecting Nam Định-Thái Bình-Hải Phòng and the Thái Bình-Hà Nam route.
Warehouse infrastructure for logistics services serving import and export activities at border gate areas are also interested in investment, such as Thành Đạt inland container depot (ICD) in Móng Cái with an area of ​​nearly 100ha; and 27.3-ha logistics centre in Hoành Mô-Đồng Văn border gate economic zone in Bình Liêu District.
Hà Nội now maintains a logistics system serving import and export goods at Mỹ Đình ICD and Gia Lâm ICD. Bắc Ninh has Tiên Sơn ICD Logistics Centre on an area of 10ha. In Hải Phòng, Yusen Đình Vũ Logistics Centre was put into operation in 2014 over an area of 100,000 sq.m.
For seaports in the region, the operation of Lạch Huyện international port plays an important role in the seaport system of Việt Nam.
This is a general port to meet the increasing demand for loading and unloading goods transported by the sea of provinces and cities in the northern key economic region, especially Hà Nội, Hải Phòng and Quảng Ninh.
From Lạch Huyện port, export goods are shipped directly to Europe and America without transit via regional ports such as Singapore and Hong Kong. This significantly reduces transportation costs and increases competitiveness for export goods.
Việt Nam named in Agility's top 10 Emerging Markets Logistics Index 2023
Việt Nam has been ranked in the top 10 places in the 2023 Agility Emerging Markets Logistics Index compiled by Agility, one of the world's top freight forwarding and contract logistics providers.
Việt Nam is in 10th place, up one spot compared to the previous year.
Among Southeast Asian countries, Việt Nam is fourth, behind Malaysia, Indonesia, and Thailand.
Agility ranked 50 economies based on three factors which make them attractive to logistics providers, freight forwarders, shipping lines, air cargo carriers, and distributors.
The factors are domestic and international logistics opportunities, digital readiness, and business fundamentals.
According to details provided by Agility, Việt Nam performed well in terms of international opportunities, ranking fourth globally with 6,03 points. The country came 16th for domestic logistics opportunities, 19th for business fundamentals, and 15th for digital readiness.
China remained the world's leading emerging logistics market, followed by India and the UAE.