With the participation of WEF Chairman Klaus Schwab, WEF President Borge Brende, and about 50 leaders of global corporations which are members of the forum, this dialogue was the only national-level event organised by WEF during its 2023 Annual Meeting, aiming to introduce Vietnam's experience as a model for economic recovery and efforts in transitioning its growth model. It provided an opportunity to exchange views on the Southeast Asian nation's business-investment directions, policies, and environment.
In his remarks, PM Chinh stressed that Vietnam is currently focusing on building a rule-of-law socialist state, a socialist democracy, and socialist-oriented market economy, placing the people at the centre and considering them the subject of and driving force for development. Vietnam consistently pursues a foreign policy of independence, self-reliance, multilateralisation and diversification of foreign relations, he affirmed.
The Government leader elaborated that the country is actively implementing three strategic breakthroughs, which are the comprehensive improvement of institutions, the development of a high-quality workforce, and the construction of modern and synchronous infrastructure.
Vietnam is actively pursuing a strong growth model reform, restructuring the economy, promoting innovation, digital transformation and energy transition, and developing a green and circular economy, he said.
PM Chinh suggested that the WEF and its members continue to collaborate with and support Vietnam in technology, finance, high-quality human resources training, and modern governance.
In response, the WEF leaders and business leaders acknowledged Vietnam as one of the bright spots in the region's economic recovery, a successful model in pandemic prevention, and a pioneer in growth model transformation and energy transition.
Many participating enterprises, impressed by the Vietnamese Government's strong commitment and support for the business community, said the nation is among the most suitable choices for long-term investment and cooperation.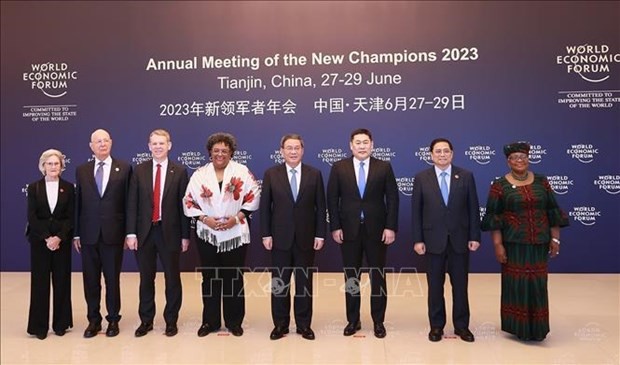 Prime Minister Pham Minh Chinh (second from right) and heads of delegations attending the WEF Annual Meeting in a group photo. (Photo: VNA)
On the same day, PM Chinh received Robert H. McCooey, Jr., Vice Chairman of Nasdaq – a US-based multinational financial services corporation, who expressed his impressions on Vietnam's achievements in economic recovery and growth.
Lauding Nasdaq's support for Vietnamese businesses, the leader hoped that the company can inform Vietnam about monetary policies of major countries, global financial market trends, and experience to help develop its domestic capital market. He also looks forward to Nasdaq further accompanying the development of Vietnamese enterprises.
McCooey, who commended the financial and monetary management policies of the Vietnamese Government and believed in the dynamic development of Vietnamese businesses, said he is committed to supporting Vietnamese firms in expanding their global reach. He also wished to welcome PM Chinh to the Nasdaq stock exchange as quickly as possible.