The Paris Agreement on Ending the War and Restoring Peace in Vietnam ( Paris Peace Accords ), reached on January 27, 1973, is a vivid historical proof of the aspiration for peace and the tradition of amicable diplomacy of the Vietnamese people; and an important premise of the foreign policy of independence, self-reliance, multilateralisation and diversification in the period of Doi Moi (Renewal) and extensive international integration over the past more than 35 years.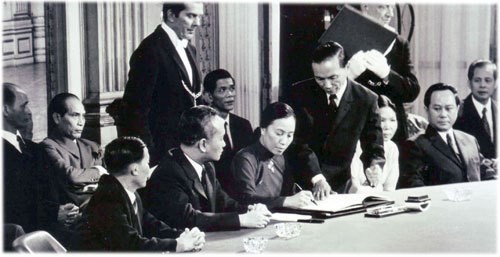 The statement was made by Foreign Minister Bui Thanh Son at a symposium highlighting the historical significance and learnt lessons of the agreement, held in Hanoi on January 16.
The valuable lessons learnt from this historic negotiation are still valid and need to be effectively applied in implementing the foreign policy of the 13th National Party Congress, stated Son.
Participants agreed that the success of the negotiation on the agreement was the result of the skillful and thorough application of President Ho Chi Minh's thoughts on diplomacy.
Delegates attending the symposium (Photo: VNA)
It was the crystallisation of the coordination between Party and State diplomacy with people-to-people diplomacy. Under the sound and ingenious leadership of the Party Central Committee and President Ho Chi Minh, the agreement created a turning point in the situation and the balance of power which was beneficial for the Vietnamese revolution, towards the complete reunification of the country in 1975.
Deputy head of the Party Central Committee's Commission for Information and Education Le Hai Binh affirmed that communication work at home and abroad contributed importantly to the achievement of the Paris Peace Accords, as it helped clarify the justice of the resistance war for national salvation, gather the support for Vietnam's struggle of people around the world, and encourage American people's movement against the war.
The Paris Agreement on Ending the War and Restoring Peace in Vietnam was signed on January 27, 1973 by the Democratic Republic of Vietnam, the National Front for the Liberation of South Vietnam, the Republic of Vietnam, and the US, after 201 open sessions, 45 high-level private talks, 24 secret meetings, 500 press conferences, 1,000 interviews and hundreds of get-togethers in support of Vietnam.
The agreement put an end to the longest and most difficult struggle in the history of Vietnam's diplomacy.