The northern city of Hai Phong aims to become a regional and international logistics centre due to its many advantages as a transportation hub for all five types of traffic, including sea, road, air, railway, and inland waterways.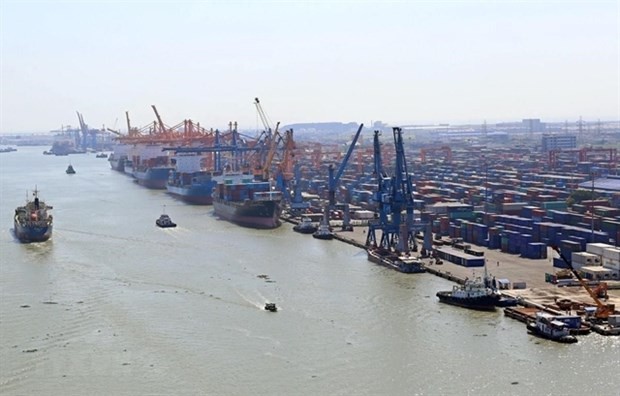 Hai Phong aims to become an international logistics centre: Dinh Vu port in Hai Phong. (Photo: VNA)
This objective is highlighted in the northern city's service sector development project for 2030, with a long-term vision to 2045, including logistics services.
The city is also studying to develop a project to establish a free trade zone, considered a breakthrough solution to exploit the best advantages in the logistics sector of Hai Phong.
The Politburo's Resolution 45 on building and development of Hai Phong city by 2030, with a vision to 2045 also states that Hai Phong must be built into a national logistics service centre by 2025.
"By 2030, it will become a modern international logistics service centre with sea, air, highway and high-speed rail".
According to former Secretary of the Hai Phong city Party Committee Tran Luu Quang, who has been appointed to the Government's Deputy Prime Minister, to develop logistics services, Hai Phong will promote administrative reform and digital transformation in the field of seaports and logistics.
It will strengthen investment attraction and trade promotion, and form logistics service chains with high added value and regional linkages.
According to the Ministry of Industry and Trade, Hai Phong has great advantages in infrastructure of seaports, fishing ports, warehouses for industrial production, and import and export activities of goods.
At the same time, some of 14 industrial parks (IPs) are built on the basis of logistics services to increase connectivity among enterprises at the supply chains.
In the past, Hai Phong has focused on investing and upgrading seaport infrastructure in line with the development trend of regional and international shipping. Its transport system is improved and more synchronous.
Many projects on developing logistics centres in industrial zones and economic zones (EZs) have also received licences of investment, such as a logistics centre invested by KM Cargo Services Hai Phong Co, Ltd with a capital of 34.8 billion VND; a logistics project with total investment capital of 35 million USD developed by ECPVN Hai Phòng 1; JD Property Logistics Park Hai Phong 1 project in the non-tariff zone and Nam Dinh Vu Industrial Park with a total investment of 32 million USD. Those have created new opportunities for the logistics service industry in Hai Phong.
Quang said that in 2022, traditional and advantageous service sectors such as seaport and logistics services have made strong developments. They have actively contributed to the socio-economic development of Hải Phòng and the northern key economic region.
Hai Phong's growth rate of logistics services is about 20-23% per year and this sector has accounted for 13-15% of the city's GRDP.
The volume of goods through the ports in the city has grown strongly, accounting for a large market share in the seaport system of the country.
Pointing to the service's shortcomings, Dan Duc Hiep, former Vice Chairman of the municipal People's Committee, said that Hanoi has about 1,000 enterprises registering to provide logistics services, but they have limited competitiveness and a low market share.
The majority of cargo volume via Hai Phong seaport continues to be transported by road, putting great pressure on the transport system.
Meanwhile, transporting goods by rail and inland waterway is still weak.
There is also the problem of labour shortage, especially high-quality labour. Logistics and production enterprises of Hai Phong are always in a serious shortage, especially logistics sales staff, logistics information technology staff, and staff coordinating transportation and warehouse operations.
At the same time, most employees of enterprises lack logistics knowledge and skills. This will be a big challenge for the development of the service in the future.
According to forecasts, Hai Phong needs about 369,000 logistics workers by 2025, including 252,600 trained workers. By 2030, this number will increase to 460,000 employees, including 368,000 trained workers.
Human resources for the logistics sector in Vietnam in general and Hai Phong in particular will still lack in both quality and quantity for many years in the future. The human resource at present meets only about 40-45% of the industry's needs.
Therefore, Hai Phong needs to have a strategy on sustainable development of human resources for the logistics sector, Hiep said.