Quang expressed his delight at the strong and practical development of the bilateral strategic partnership in various areas. In particular, two-way trade hit 16.1 billion USD in 2022, more than 30 times higher than in 2021, making Australia the 10th largest trade partner of Vietnam and Vietnam the seventh biggest trade partner of Australia.
According to the Deputy PM, Australia have invested in 579 projects worth nearly 2 billion USD in Vietnam, ranking 20th out of 141 countries and territories investing in Vietnam. Meanwhile, Vietnam has poured investment in 87 projects valued at 540 million USD in Australia.
In United Nations peacekeeping operations, Australia helped Vietnam four times to transport Level 2 field hospitals to South Sudan, offered English language training and equipment to the field hospitals. Australia provided Vietnam with 26.4 million doses of COVID-19 vaccines, becoming the second largest vaccine donor of Vietnam.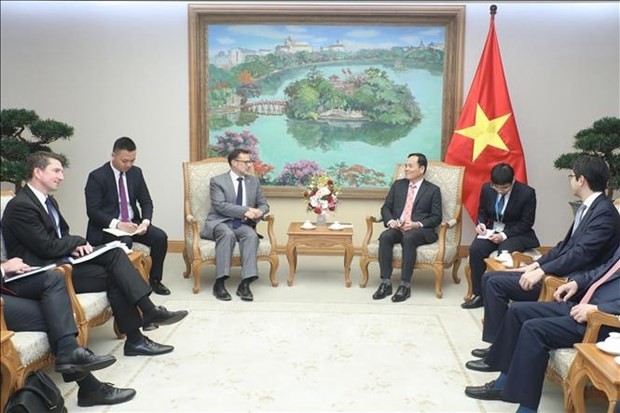 At the reception (Photo: VNA)
Goledzinowski, for his part, affirmed that Australia considers Vietnam a close and strategic partner and a good friend. He added that Australia has decided to increase its official development assistance (ODA) funding for Vietnam by 18% during the fiscal year 2022-2023 to 92.8 million AUD (61.9 million USD), with the expectation to build more works in Vietnam.
The host and guest expressed their belief that the friendship and cooperation between Vietnam and Australia will keep thriving in various areas in the coming time. They also emphasised the importance of ensuring peace, stability and cooperation in the region and the world, and respecting the United Nations Charter and international law.